Artificial intelligence (AI) has been especially in focus this month with the Mayor of London publishing a report on AI innovation in the capital.[1] The report highlights the huge significance of this evolving technology across all major industries, and confirms that London is at the heart of it, with double the AI supplier base of Paris and Berlin combined.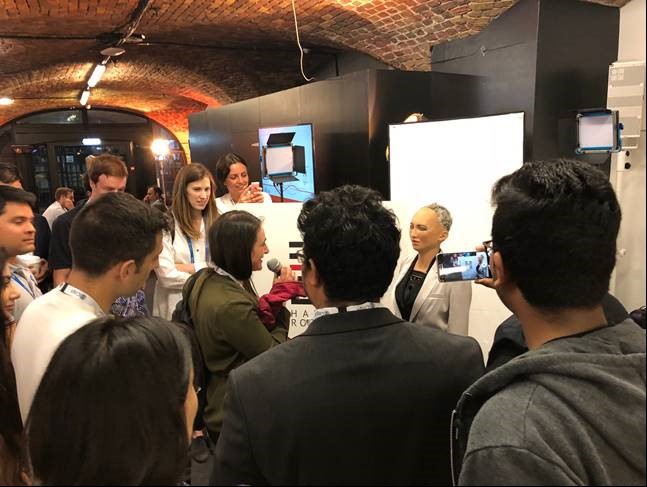 Alongside this report, there have been two large AI conferences taking place in London, one of which I attended. Sophia the robot was also in attendance, proving very popular yet again. The fact that we, as humans, are naturally drawn to humanoid robots like Sophia was the subject of a debate in the well-attended ethics track, where Sophia's creator, David Hanson, examined these ideas on a panel with other AI experts. They discussed how humans are hardwired to respond emotionally to objects that look like living beings – not just robots, but also animated characters in movies and even inanimate statues. The question remains whether this presents an opportunity for ill-willed deception or an opportunity to explore human behaviour and ultimately help people in real-life situations.
I had my own experience of interacting with humans through a robot form when I was operating another robot called Pepper. I was able to move the robot around using hand controllers and I could see through the headset, via the camera attached to Pepper's head. I also enjoyed speaking through Pepper to others nearby.
It is clear that we don't know the limits of this new technology – it seems we are very much still at the beginning. There are many applications today using 'narrow AI' but we are still far, far away from AGI or 'artificial general intelligence' (systems with intelligence comparable to that of the human mind), which may be a sigh of relief for some of us right now. One leading AI chip company talks about the factors it deems essential to advancing AI, which include programmability, latency, accuracy, energy efficiency and rate of learning. With these ideas in mind, it has recently designed an AI chip specifically for autonomous driving and made the technology open source, so that anyone can use it. This chip allows 30 trillion operations per second for 30 watts of power and is the size of a credit card.
It was evident at the AI conference that it's not just about the technology sector. AI is being applied to all businesses and industries, with the CEO of Royal Mail delivering a keynote speech. Paul Daugherty, the CTO at Accenture, said he had never seen a technology affect businesses as fast as AI. It requires reimagining how to do business, not just reengineering. This has huge implications for how we work and the types of new jobs that will be required, along with the reality that many will become obsolete.
Of course, there is also the important discussion of the ethics surrounding AI. Who, and under what ethical code, is responsible for creating the algorithms that will influence our decisions, experiences and movements in day-to-day life? At Newton, we are exploring the challenges and opportunities that AI is creating via many of our investment themes, including 'smart revolution', and asking questions of the management teams of the companies we invest in to ensure they are well placed to evolve with technology. The most exciting part of AI is that, as Paul Daugherty put it, "there is no finish line". We need to keep learning because it is an ever-evolving, ever-changing phenomenon.
[1] https://www.london.gov.uk/sites/default/files/london_theaigrowthcapitalofeurope_9june.pdf