With the proxy voting season coming to an end, I wanted to share with you some of the key trends and developments that we have seen over the 2016 season.
Most interestingly, there has been an increase in active and discerning voting from shareholders on a range of environmental, social and governance (ESG) issues, from remuneration through to corporate strategy and environmental practices, no doubt a result of an overall increase in the prevalence of stewardship codes.
In addition, criticism of large institutional investors who vote by policy, or who have a default policy to vote with management, is on the rise.
At Newto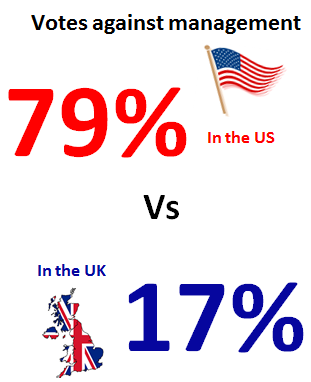 n, we take our stewardship responsibilities to our clients very seriously, supporting, or withholding support from, management according to what we believe is in the best interests of our clients.
In the 2016 season to date, we voted most often against board structures and remuneration policies. Unsurprisingly, given the nature of its corporate governance, North America topped our 'votes against' league, with 79.4% of votes cast against management on one or more resolutions. Europe and Asia saw 50.8% and 47.1% of votes against management respectively. The UK's figure, a much lower 17.3%, reflects a stronger stewardship relationship between companies and shareholders.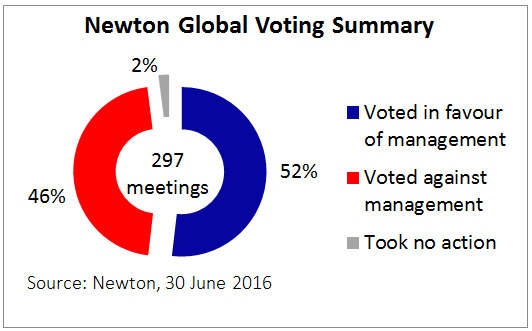 For more information about our voting practices over the first half of this year, you can visit the Responsible investment area on our website.
Market-specific issues
Australia and New Zealand
Dissatisfaction with remuneration reports
Decline in transparency of incentives and targets
In trying to incentivise key employees in a difficult environment, remuneration committees are resorting to putting more weight behind non-financial performance targets. The reduced transparency of such arrangements has led to increased shareholder dissatisfaction: in 2016, 'strikes' (defined as a vote of 25% or more against a resolution) on remuneration reports rose from 5.1% to 6.4% year-on-year, with market underperformers the greatest targets.[1] If a remuneration report receives a strike for two years in a row, it triggers a further vote requiring all directors to face re-election. While this 'two-strikes' rule may not bring executive pay under control, it forces remuneration committees to explain their performance targets.
Japan
Corporate reform of outsider board representation
Stubborn lack of diversity on boards
As part of President Abe's 'third arrow' of Abenomics (a series of large-scale structural reforms covering a range of factors from immigration to gender equality), corporate governance reforms have led to an increase in the number of outside directors being appointed to company boards, and have been a catalyst for improved disclosures and corporate governance discussions. Companies with at least one outsider rose to 97.2% in 2016, and over 75% of companies now have at least two outsiders on their boards.[2]
Concerns remain around the exact definition of an independent outsider, and a notable lack of diversity, both in terms of gender and ethnicity, persists on Japanese boards. If companies actively adopt President Abe's corporate governance code and investors embrace the stewardship code, rather than simply complying, we would expect to see further improvements.
United States
Increase in environmental proposals from shareholders
New pay disclosure rules: the Dodd-Frank Act
Over the course of the 2016 proxy season, we have seen a 30% increase in shareholder proposals relating to climate change issues, including stranded carbon asset risks, energy efficiency and compensation-linkage to climate-related performance measures.[3]
The Dodd-Frank Act, requiring companies to disclose the pay ratio between management and employees, will become a requirement for firms for their first fiscal year beginning on or after 1 January 2017. Pay-ratio disclosure will be especially important to monitor in the context of rising inequality in the US, which is increasingly becoming a social issue. Pleasingly, a number of companies are introducing performance-based long-term pay awards, but time-based awards continue to dominate.

European Union
Board diversity quotas spreading
Modernising corporate governance: the Shareholder Rights Directive
Focus continues to centre on board diversity, compensation and disclosure. In Germany, binding gender diversity quotas of 30% for large boards come into effect this year.[4] This policy hit a roadblock when companies which failed to find a female nominee left the positions vacant, meaning only 22% of board seats were held by women in March 2016.[5] EU member states must also comply with the Shareholder Rights Directive, the EU Commission's action plan to modernise corporate governance and increase corporate transparency.
United Kingdom
Dissent over remuneration policies and disclosure of performance targets
Board diversity quotas escalate
We have seen a higher level of investor dissent around remuneration policies and reports than in 2015. For example, at Weir Group, the directors' future remuneration policy received 72.4% dissent from shareholders because the majority of the pay award was not linked to performance.[6] The biggest shock of the proxy season took place at BP's AGM, when 60% of shareholders voted against a 20% pay increase for the CEO in a year which was marred by record losses, the oil price collapse, job cuts and pay freezes for the wider workforce.[7] Remuneration committees' use of discretion is likely to remain an area of shareholder focus in the 2017 proxy season.
On the subject of board diversity, the FTSE 100 successfully reached the 25% female board representation target, recommended by Lord Davies and backed by the government.[8] A new target of 33% female board representation by 2020 applies to all FTSE 350 companies.
[1] Macquarie Research, 2016
[2] Institutional Shareholder Services, May 2016
[3] Institutional Investor Services, March 2016
[4] Institutional Investor Services, April 2016
[5] Hans Böckler Foundation, March 2016
[6] Kirton, 2016
[7] Quinn, 2016
[8] Glass, Lewis & Co., 2016