Green bonds offer investors looking for exposure to sustainable investments a chance to invest in the 'E' (environmental element) of their environmental, social and governance (ESG) remit. They allow investors to help aid the transition to a low-carbon world by lending money that will be used for specific green projects.
Historically, exposure to these types of projects was through higher-risk and less-liquid project-finance debt. Standard 'use-of-proceeds' green bonds benefit from being backed by the underlying credit rating of the issuer, thereby lowering the specific project risk and thus overall credit risk. The cash flows funding the coupons and principal can originate from non-green operations, and the bond can still be considered 'green'.
Evidence suggests that green bonds price at a similar spread to non-green bonds, thereby encouraging investors who do not have specific green mandates to consider investing in them, but the market remains relatively niche.
Given the still small size of the green-bond market compared to the wider corporate-bond market ($195 billion versus $22.5 trillion at the end of June 2018 according to ICE BAML Indices), green bonds are viewed more as 'buy-and-hold' securities, so are often less volatile and tend to outperform in a spread-widening environment.
What makes a green bond?
As yet, there is no clear global definition of what constitutes 'green', which makes it hard to compare and contrast green bonds. For example, should there be a minimum level of commitment to decarbonisation by companies, or is simply using green bond proceeds to reduce carbon output over time sufficient? Impact-driven investors may require more stringent targets before they consider investing in the sector.
Given the relatively small size of the market, investors face reduced liquidity in green bonds versus non-green bonds from the same issuer. Liquidity should improve over time though as the market continues to grow.There is currently no explicit requirement for issuers to ring fence green-bond proceeds, nor is there any penalty for misallocation of the funds, or for 'greenwashing' (the practice of making an unsubstantiated or misleading claim about the environmental benefits of a product, service or practice. Covenants that seek to enforce this structure may not make it to the market, but investors must include in their analysis the assessment of continuing performance.
Another issue is a lack of diversity. Currently, the green-bond market is primarily an investment-grade market. Although companies have now started issuing into the market, 75.7% of issuance is made up of just seven sectors: sovereigns, supranationals, agencies, foreign sovereign, banking, financial services and utilities. In fact, the ICE BAML Green Bond Index (see below), has very little representation in sectors such as basic industry (1.6%), capital goods (0.3%), health care (0.3%) and services (0.2%).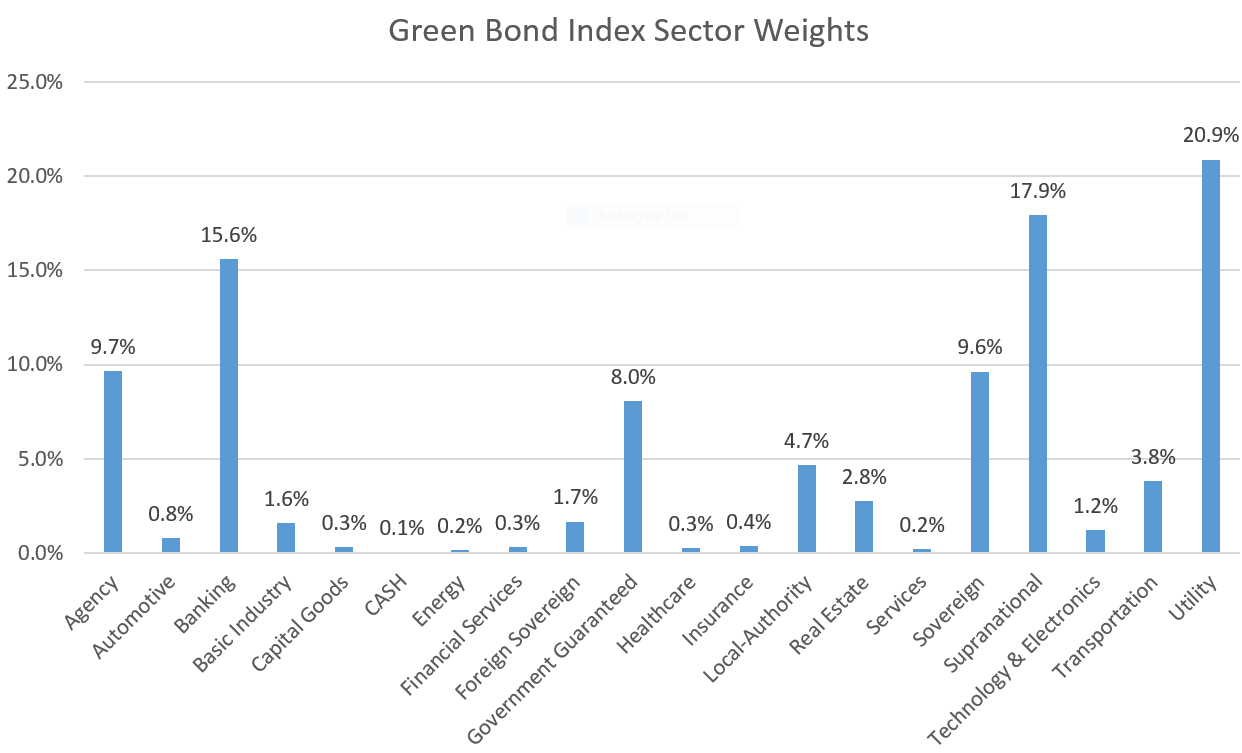 Source: ICE BAML Indices, June 2018
In a similar vein, 54.3% of the index is represented by bonds rated 'AAA' to 'AA', and 79% is rated 'AAA' to 'A', as seen in the chart below.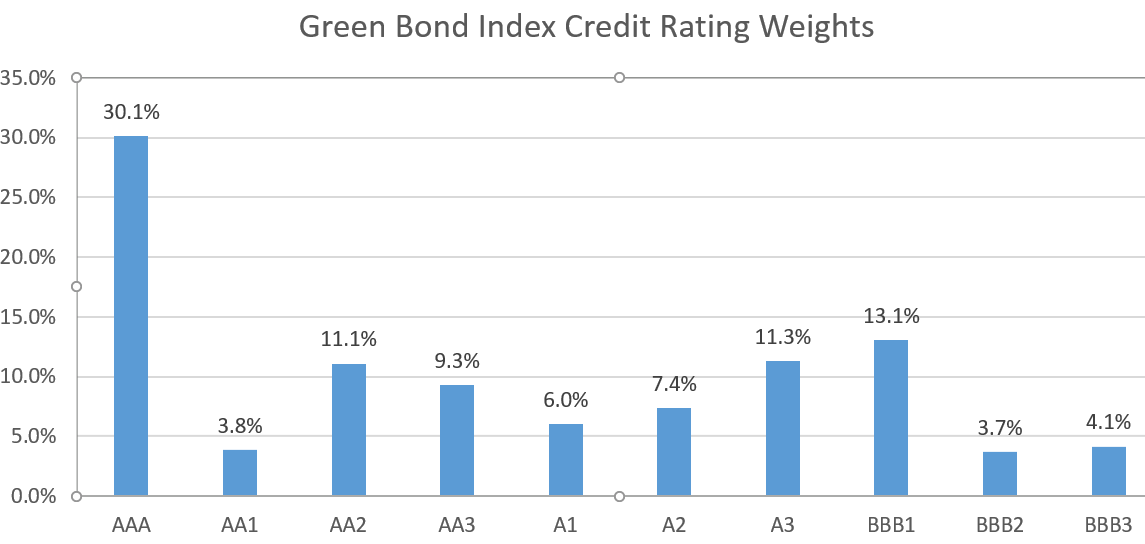 Source: ICE BAML Indices, June 2018
If a company's eligible green projects are not large enough in size or number, they may be insufficient for a benchmark-size bond, which will limit investor participation. Also, there are incremental costs for a company preparing to issue a green bond, such as paying for a second-party opinion, and committing to report annually on the progress of the projects and allocation of proceeds. As the green-bond market has grown so quickly, there has been a lagged but still significant development in the market standards of what constitutes 'green'. Investors must be able to compare and contrast the qualities of different green bonds, and, while the data around this is still not perfect, we expect the robustness of the market to continue to strengthen incrementally, and investors to be attracted to participate in this growing area.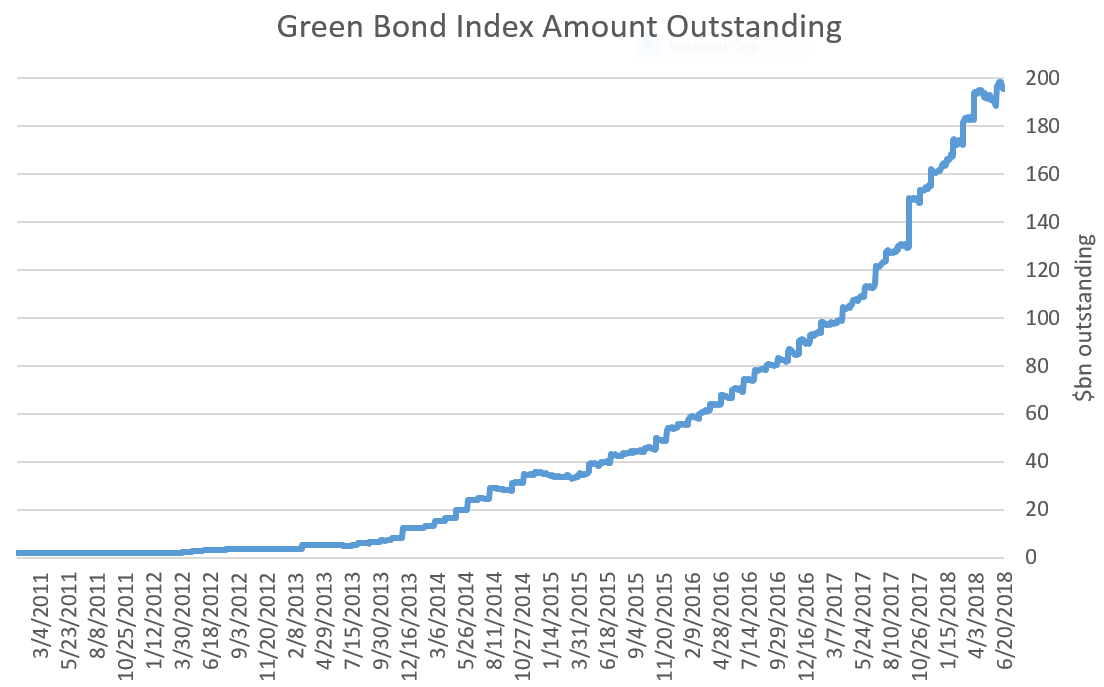 Source: ICE BAML Indices, June 2018
Evaluating green
There are currently two main standards for green bonds: the Green Bond Principles and the Climate Bonds Standard, with the latter appearing to be a little more stringent. While this development is positive, the principles have evolved over time, and there is still no recognised global standard. This makes it difficult for investors to be able to compare and contrast the qualities of green bonds, from use and management of the proceeds to reporting on progress. Some green bonds issued have drawn scepticism from the market as to how 'green' the use of proceeds really is; there is a risk of bonds being labelled as green in order to sate investor demand. This risks devaluing the market and its reputation, which is why, in our view, it is so important to conduct proprietary analysis of the credit and the selection of green projects.
There is no doubt that the absence of a global standard acts as a dampener to the development of the green-bond market. However, the European Union's High Level Expert Group (HLEG) intends to develop an official green-bond standard to help the market to develop fully and maximise its capacity to finance green projects that contribute to wider sustainability objectives. There is a chance it could be adopted internationally, which would be a boost for the green-bond market as a whole.
The ratings agency Moody's has helped comparability of different green bonds through developing its own Green Bond Assessment framework, and it continues to roll out coverage. Standard & Poor's has developed its Green Evaluation service, and ratings agencies in general are considering incorporating more explicit 'E', 'S' and 'G' analysis into their ratings. There has been growth in the number of organisations that offer second-party opinions (an independent review of the selection criteria for the projects being financed and of the actual allocation of funds); however, the number of parties involved means the output is not always comparable.
Is the future green?
Just because a company issues a green bond, it doesn't mean that all of its other bonds are un-investable from a green-bond mandate perspective. If a company is taking the right approach to improving its sustainability and positive impact, and has a robust approach to its broader environmental challenges, its non-green bonds may be just as appealing as its green bonds, and may indeed prove to be more liquid securities.
The real boost that the asset class needs will come when companies from a wider range of industries and geographies are encouraged to enter the market, which will increase liquidity. Countries issuing green bonds may help lead by example.
The fact that green bonds are becoming higher profile leads us to expect that the market structure will continue to improve over time. However, if the market is to continue to grow strongly, it will need greater diversification across credit rating, sector and geography in order to improve liquidity, and a globally agreed means of assessing and evaluating individual bonds.