Technologies are diffusing into society faster now than they ever have in the past, a subject I have discussed here on the blog previously. For example, while it took 75 years for the telephone to reach 50 million users, it took cult gaming app Angry Birds just 35 days.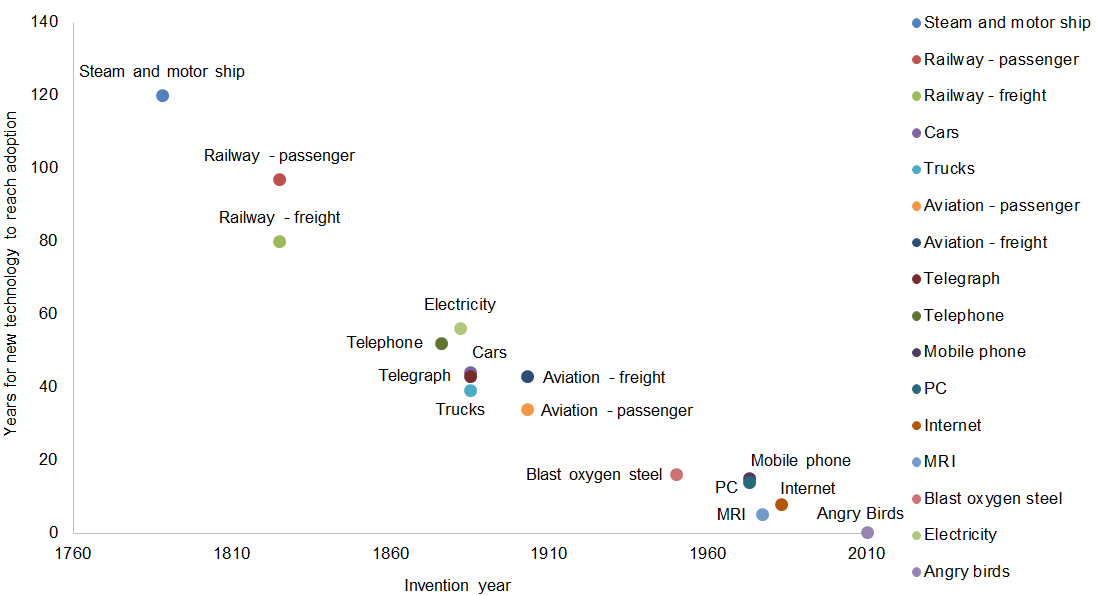 Source: An Exploration of Technology Diffusion, Diego Comin and Bart Hobijn, American Economic Review 100 (December 2010): http://www.dartmouth.edu/~dcomin/files/exploration_technology.pdf
This rate of technological change is putting businesses under intensifying pressure. 72% of the top 1,300 global CEOs believe that the next three years will be more critical for their industry than the last 50 years, and 69% are dealing with strategic issues they have never faced before.[1] The reason is that new approaches, enabled by very low start-up costs (distribution, marketing, data acquisition), are reducing barriers to entry on a global scale. With low marginal-cost business models, new entrants can quickly reach a scale which once took incumbents decades to build. Small start-ups can match a big company's computing power by simply plugging into the cloud, local businesses can go global with just a click of the mouse, and obscure brands can reach consumers all over the world through YouTube.
As a result, competition in many markets is increasing, product life cycles are compressing, and entire industries are being reshaped; take the influence of iTunes and Google on the industries of music and advertising respectively. Even presidential campaigns aren't immune from technological disruption, as Twitter's major role in the latest US elections demonstrated.
Computer power is only increasing, and more and more daily products are joining the networked world; Google promises to reinvent cars as autonomous vehicles; Amazon promises to reinvent shopping (again) using drones, and 3D printing threatens to disrupt manufacturing.
History lessons
The clear warning to companies is to innovate or face extinction. As the CEO of Nokia said in his infamous memo to staff in 2011, recognising Nokia had fallen irreversibly behind Apple: "We are standing on a burning platform… And we're not even fighting with the right weapons. We are still too often trying to approach each price range on a device-to-device basis… but… our competitors aren't taking our market share with devices; they are taking our market share with an entire ecosystem."
 Woolworths, Polaroid, AltaVista, Kodak, Blockbuster, Borders… the list goes on. Such increasing disruption has meant 17% of the largest 2,500 public companies in the world changed their CEO in 2015, more than in any of the previous 16 years.[2]
History is full of examples of how new technologies disrupt existing industries and affect equity markets. While the idea of the canal or the railway as a disruptive technology seems outlandish today, two hundred years ago they both substantially changed the way goods were moved around the country. Between the late 18th century and 1824, more than 60 canal companies floated on the London Stock Exchange, raising the equivalent of $32 billion in today's money.[3] With goods able to be transported sixty times more efficiently in tonne miles per day, the canal had successfully disrupted the horse and cart. However, in 1825, the Stockton and Darlington Railway was completed, and over the next 25 years the stock prices of canals fell by over 70%. Railway fever hit the UK, peaking in 1846, when 272 new lines were approved. Railways were easier and cheaper to build than canals, and significantly faster. As the charts below demonstrate, in 1900, rail companies made up 50% of the top 100 companies in the UK and 63% of the top 100 companies in the US. Today their sector weighting in these equity markets is virtually zero.[4]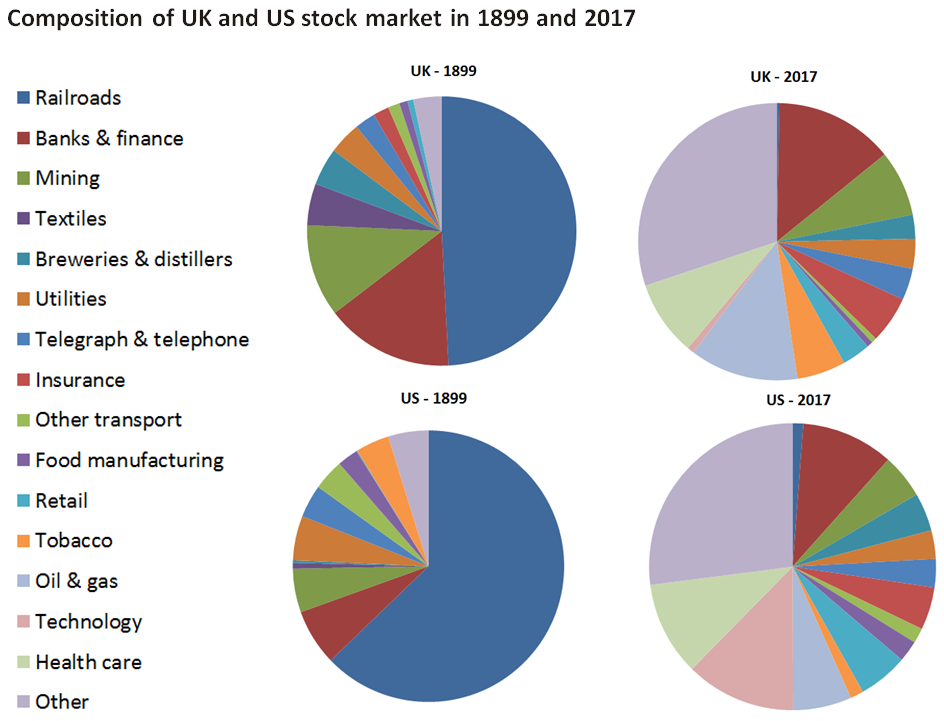 Source: Elroy Dimson, Paul Marsh and Mike Staunton, Triumph of the Optimists, 2002 & Bloomberg, January 2017
Charles Duell, commissioner of the US Patent and Trademark office, said in 1902, "In my opinion, all previous advances in the various lines of invention will appear totally insignificant when compared with those which the present century will witness." He was right. In 1900, technology, oil & gas and pharmaceuticals companies had zero weights in the US equity index but are now around 30% combined (see charts above).
The most stable sectors in terms of stock market weights over the century have been banks, utilities and breweries & distillers – and I would bet that over the next 100 years these three areas will remain critical. But, for long-term investors, the big question is, will oil & gas (think electric vehicles), retail (think Amazon), telecommunications (think WhatsApp) or health care (think artificial intelligence) still be relevant?
[1] Now or Never. 2016 Global CEO Outlook, KPMG: https://home.kpmg.com/content/dam/kpmg/pdf/2016/06/2016-global-ceo-outlook.pdf
[2] 2015 CEO Success Study from Strategy&: http://www.strategyand.pwc.com/ceosuccess
[3] Nairn (2002), Engines That Move Markets: Technology Investing from Railroads to the Internet and Beyond.
[4] Elroy Dimson, Paul Marsh and Mike Staunton (2002), Triumph of the Optimists, 2002 & FTSE All-Share end-January 2017 & FTSE World end-January 2017