UK budget changes heralded a new era of pension flexibility, enabling investors to use their pension fund as a savings vehicle beyond the point of retirement. At the same time, the population is ageing fast. In the UK today, around 10 million people are over 65, with the figure set to almost double by 2050. While one in six of the UK population is currently aged 65 and over, by 2050 this will rise to one in four.* These developments have accentuated the need to provide an attractive regular income, as well as protect capital. The Newton Multi-Asset Income Fund has been designed to meet these requirements. The compounding nature of income and its benefits to long-term wealth creation also make this strategy well suited to the pre-retirement phase.
What opportunities are there for asset managers in the retirement income space and how have these evolved since freedom and choice was introduced?
While previously there was a requirement for individuals to purchase an annuity upon reaching retirement – indeed this was a regulatory requirement – the range of choices available to individuals has broadened. Now it seems increasingly rational to aim to generate a steady, sustainable retirement income while retaining ownership of the underlying pot. A range of distribution channels exist: asset managers can forge strategic partnerships with insurance companies; they can address the retirement income market through traditional IFA networks; and they can build on direct relationships with consultants, pension schemes and master trusts which are beginning to embrace retirement income as a potential area of involvement. Designing appropriate investment solutions which address the long-term needs of retirees, and which can be used both through advisory and self-service channels, can ensure a strong foothold in this burgeoning market.
What is the appeal of retirement income products?
With the advent of pensions freedoms, the risks facing individuals as they reach and go through retirement need to be reassessed. For most defined contribution (DC) members entering retirement, the key concern and risk will be the permanent diminution of capital, which will erode their ability to reinvest and recover losses. With this in mind, many investors are looking for peace of mind in the shape of a sustainable portfolio that will provide a consistent income stream over time. One way to accomplish this could be through a multi-asset approach which blends investments across a range of assets in order to achieve the income objective while giving careful and measured thought to the risk-management process.
What segments of the market are the most receptive to investing in retirement income funds?
Current demand for retirement income products comes mainly through more traditional IFA channels, although this is likely to change as the market evolves and as pension provision becomes more institutionalised. As pot sizes grow, providers, schemes and their advisors will increasingly adapt to serve a growing drawdown segment, and it should be possible to remain in a single environment, either on, or, over the longer term, off-platform. This is all the more important given the fact that retirement income strategies such as multi-asset income are arguably as relevant pre as post retirement. The compounding benefits of reinvested income mean that such an approach can provide strong, risk-adjusted returns over the long term. Moreover, such strategies may have a place in defined benefit (DB) pensions as cash flow-negative schemes look to meet their liabilities.
Is there evidence of demand materialising and what is the likely catalyst for this to accelerate?
There are already some signs of multi-asset income demand, albeit somewhat slower than anticipated. The requirement to repurpose platform technology to accommodate regular income payments to members, the small average pot size of the majority of retirees and the limited provision and take-up of advice at the point of retirement have stymied the pace of growth. Moreover, it is incumbent on asset managers to demonstrate the appeal of multi-asset strategies as a means of generating a steady cash flow stream in the face of increasing longevity and a lack of yield in other parts of the market. By generating a natural income through careful stock selection, the need to sell assets to raise cash, which would introduce sequencing risk, is avoided. As regulated financial advice becomes more embedded in the retirement journey, this is likely to lead to increased interest and ultimately investment flows into this area.
How does the Fund aim to achieve a sustainable yield?
We employ an active approach to multi-asset income investing with direct holdings in underlying securities and only selective exposure to third-party managers, notably in more specialist areas such as renewables. The lack of adherence to an index means that the focus can be on finding companies with sustainable business models which can continue to pay dividends, irrespective of the economic backdrop, rather than taking account of index weightings.
The Fund's income objective of generating a sustainable yield is set at the portfolio level and we have the freedom to reallocate capital in a timely manner across the capital structure to explore the best risk-reward opportunities – something that often gets overlooked, particularly in a 'fund of funds' approach or a single asset-class fund. Having this discretion allows us to understand risk on a more holistic basis and its interplay across asset classes.
What does the portfolio look like in terms of holdings?
The Fund is fully flexible, allowing us to invest without any sector, country or asset class constraints, seeking those assets that we believe will deliver the best income, while also aiming to preserve and grow capital over the long term. We look at the relative value between bonds, equities and alternative assets. Many of the opportunities within alternatives fit very well with an income objective and also help diversify the sources of income the fund receives. We currently have significant exposure to renewable-energy and infrastructure assets that should have very stable cash flows with very little sensitivity to the economic cycle.
Can you talk about an area of investment you find particularly exciting in the current environment?
One of the portfolio's current holdings is a company that invests in windpower assets. Around 50% of the revenues from these assets are fixed and rise with inflation, as a result of inflation-linked government subsidies. The other 50% comes from the sale of the power output onto the wholesale market. The scale of these projects is striking, as is their ability to provide true diversification within a portfolio: the wind is indifferent to the economic climate – the turbine blades keep on turning and generating power – and while the power generated does vary from day to day, it is fairly stable over a longer period such as a year. The government could, of course, decide to change the subsidy it provides to wind power assets, which would be detrimental to returns. However, we only invest in assets that are already built and connected to the grid, and we believe it is very unlikely that the subsidies would be changed on a retrospective basis for existing assets.
Newton Multi-Asset Income Fund sector and asset-class positioning as at 30 September 2018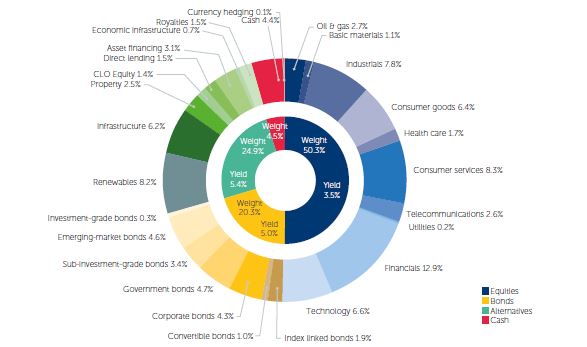 Source: Newton, 30 September 2018.
Newton Multi-Asset Income Fund – key facts
The Newton Multi-Asset Income Fund is an unconstrained, directly invested,
actively managed portfolio which aims to deliver a steady monthly income
with an eye to capital preservation.
Performance aim
Aims to yield 30% more than a reference yield of 60% MSCI AC World Index
(equities) and 40% hedged BofA Merrill Lynch Global Broad Market Index
(bonds).

Inception date
4 February 2015

Asset classes
– Directly held equities
– Directly held bonds
– Alternatives, including infrastructure, private equity, convertibles, commodities
and renewables
– Derivatives used for hedging purposes
Current annual yield
Fund 4.0% (based on the current prospective yield of the portfolio)**

Current reference yield target 2.9%

Income payments
The Fund aims to pay a stable monthly income via 11 identical monthly
payments; a 12th monthly payment will include any excess income.
*Source: House of Commons Library Research, Key issues for the new parliament, 2010.
**Source: Newton, as at 30 September 2018.
Key investment risks
Objective/performance risk: There is no guarantee that the Fund will achieve its objectives.
Currency risk: This Fund invests in international markets which means it is exposed to changes in currency rates which could affect the value of the Fund.
Derivatives risk: Derivatives are highly sensitive to changes in the value of the asset from which their value is derived. A small movement in the value of the underlying asset can cause a large movement in the value of the derivative. This can increase the sizes of losses and gains, causing the value of your investment to fluctuate. When using derivatives, the Fund can lose significantly more than the amount it has invested in derivatives.
Changes in interest rates & inflation risk: Investments in bonds/money market securities are affected by interest rates and inflation trends which may negatively affect the value of the Fund.
Credit ratings and unrated securities risk: Bonds with a low credit rating or unrated bonds have a greater risk of default. These investments may negatively affect the value of the Fund.
Credit risk: The issuer of a security held by the Fund may not pay income or repay capital to the Fund when due.
Emerging-markets risk: Emerging markets have additional risks due to less developed market practices.
Charges to capital: The Fund takes its charges from the capital of the Fund. Investors should be aware that this has the effect of lowering the capital value of your investment and limiting the potential for future capital growth. On redemption, you may notreceive back the full amount you initially invested.
Counterparty risk: The insolvency of any institutions providing services such as custody of assets or acting as a counterparty to derivatives or other contractual arrangements, may expose the Fund to financial loss.
Investment Performance



30 Sep  17-
30 Sep 18
30 Sep 16-
30 Sep 17
30 Sep 15-
30 Sep 16
30 Sep 14-
30 Sep 15
30 Sep 13-
30 Sep 14
Newton Multi-Asset
Income Fund
3.7
12.2
21.8
–
–
Performance is stated gross of management fees. The impact of management fees can be material. A fee schedule providing further detail is available on request.
Source: Newton, close of business prices, total return, income reinvested, gross of fees, in GBP, 30 September 2018.
Newton defined contribution investments
www.newtonim.com/dc
Past performance is not a guide to future performance. Your capital may be at risk. The value of investments and the income from them can fall as well as rise and investors may not get back the original amount invested. You should read the Prospectus and the Key Investor Information Document (KIID) for each fund in which you want to invest. The Prospectus and KIID can be found at www.bnymellonim.com.